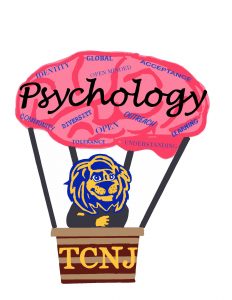 Earlier this year, the psychology department held a contest for students to create a logo that incorporated both the concepts of diversity and psychology. After careful consideration, we chose Kayla McKenna's image as the winner!
Kayla is an Elementary Education and Psychology dual major. She is graduating in December 2018 after completing her student teaching in the fall.
Kayla sat down with us to discuss her thoughts on diversity within the department, and why she chose to enter the contest.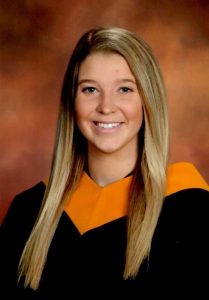 Why did you want to enter the contest?
I heard an announcement about it and I wanted to do it, and then when I got the reminder email I knew I had to try over break!
What was your thought process when putting together the image you created?
I wanted to put words on there that overlap between psychology and diversity. I wanted to really make sure the words I put on there really fit TCNJ and the department, and are ones I have experience in.
What does diversity mean to you?
To me diversity is understanding one another, and accepting differences, whether they're different backgrounds or experiences. It means taking pride in differences and exploring similarities between individuals.
What examples of diversity do you see at TCNJ?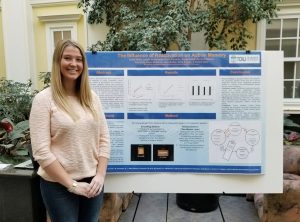 I definitely see it in the psychology department. Education is focused mostly on the diversity of children, but I've been in psychology classes with people who are really different from me and have different backgrounds than me. Coming from Brick, people were all very similar to me and I wasn't exposed to a lot. Also, many of my classes have put an emphasis on diversity in the curriculum.
The learning environment in the psychology department is so respectful of everyone's backgrounds and experiences. The faculty and staff understands that each student in our TCNJ community is unique, and everyone appreciates each other's uniqueness. I've definitely come to appreciate diversity more after taking classes at TCNJ.
Are there any classes in particular that emphasized diversity?
Last semester I took a developmental class with Dr. Sepulveda-Kozakowski, and she put a lot of emphasis on several diverse issues, especially in light of  the attachment theory. I also took a social psychology class with Dr. Barnack-Tavlaris; it was in this class that I learned to be more open and to be more accepting.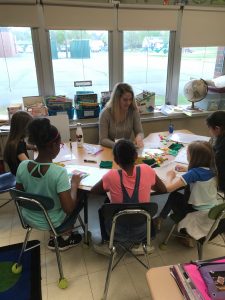 Why are these values important to you?
As a future teacher, I believe that everyone has an equal opportunity no matter what the platform. Right now I'm working with students in Trenton and a lot of my students are from different countries. Many came here illegally, and they all have very different and diverse
backgrounds. I've never been exposed to the various intersections of cultures like this before, and I now appreciate the richness that comes from this kind of diversity. I want to make sure that whatever I teach in the future is relatable to all kids. For example, this means bringing up alternative historical figures and showing different sides of every story to ensure that each of my students can relate to historical figures beyond the white men that traditional social studies education puts emphasis on.
******
You can find the logo outside each faculty member's office with the following statement: The Psychology Department is committed to TCNJ's mission for institutional diversity and inclusion. As such, we are dedicated to building and supporting a diverse and inclusive community. This logo symbolizes our commitment, and denotes a safe space for students of all backgrounds, perspectives, and abilities.
You can also purchase a laptop sticker from the department to show your commitment to diversity as well! They're being sold for $2, or you can purchase 2 for $3. Come in to the department office in SSB 109 to purchase yours today!